Experience is central to our formation as Christians, especially for children! St. John's knows it is important that families have the tools they need to worship and grow together in their faith.   If you have a child between kindergarten and 5th grade they are welcome to join our Sunday School class at any time.
Sunday School
Students pre-school through 5th grade are encouraged to attend one of our two Sunday School classes.
 Sunday School I (k – 2nd grade)
will introduce students to the very basic elements of scripture and tradition focusing on God's love for us, loving each other, and prayer. Weekly lessons correspond to the appointed readings in the lectionary (the scriptures we read in church). Students will listen to stories read by the teachers that have colorful illustrations. Crafts and activities are adaptable to accommodate students pre-k through second-grade and each student will have a take-home sheet to inspire family discussion.
 Sunday School II (3th – 5th grade)
will help students grow into a deeper understanding of scripture and tradition. They will read from the Bible, learning the basics of book, chapter, and verse. And explore in more detail, the people, places, context, and life applications that surround God's love for us. Crafts and activities are adaptable to accommodate students 3rd – 5th grade. Each student will have a take home sheet to inspire family discussion.
When does Sunday School Meet?
Sunday School will meet each Sunday between 10:30 am and 11:05 am at which point children will join their parents in worship at the peace.
Is there a specific program you use?
St. John's uses the Spark Lectionary: Activate Faith curriculum.  This Bible-centered program not only teaches our students the foundations of our faith but empowers our teachers and students to continue the conversation.
How can my family be involved?
encourage your children to attend Sunday School

consider purchasing their own copy of the Spark Story or Study Bible

donate supplies

volunteer to teach/

be a teachers aid

organize youth fellowship activities.
Youth Sundays & More…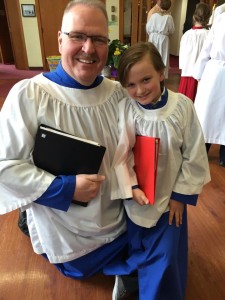 Older youth are encouraged to explore more active participation in the worship services as torchbearers, acolytes, lectors and new this year as junior altar guild or junior ushers.  The fourth Sunday of each month is set aside as Youth Sunday.  On this day, our middle and high school students help lead the 10:30 worship service by serving as acolytes, torchbearers, lectors, and more.   Prior to the service, students will meet to learn the "nuts and bolts" of their specific roles in the service.
Special fellowship and service opportunities will also be scheduled throughout the year to better build peer-to-peer and inter-generational relationships.
Students may also want to participate in the comprehensive singing program, Voice for Life (third grade and older).  Contact Kevin Simons for details.
[hr]
Be a Sunday School Volunteer!
The Episcopal Church has long been a leader among religious institutions in its effort to ensure that every congregation is a safe place for children.  When working with children, St. John's requires that at least one adult has been trained in the Safeguarding God's Children™ program, to reduce the risk for abuse.  However, we require at least two adults to be present when working with our youth.  This protects our youth and our volunteers as well as provides the opportunity for strong intergenerational relationships.  Can you volunteer to help with Sunday School?  Even once a month would make a big difference!  Contact Amy Simons to learn more!